Airbus Defence and Space in Manching. The beating heart of the German aerospace industry and home to more than 6000 employees. And on the 16th of November, it was ours as well. We means students from EUROAVIA in Munich and Stuttgart and from EESTEC (our colleagues from Electrical Engineering) and a couple of scattered software engineers. All in all, we comprised more than 70 people interested in the aerospace industry arriving in two buses.
It turned out, there was a lot in store for us. After a quick introduction, we were let loose upon the ten stands were the different departments introduced themselves and gave us a look into their daily work – and their open job applications to consider. We met a sizable number of experts, from those with decades of experience in aerospace engineering to recent university graduates, among them former EUROAVIA Munich president Markus Geiser.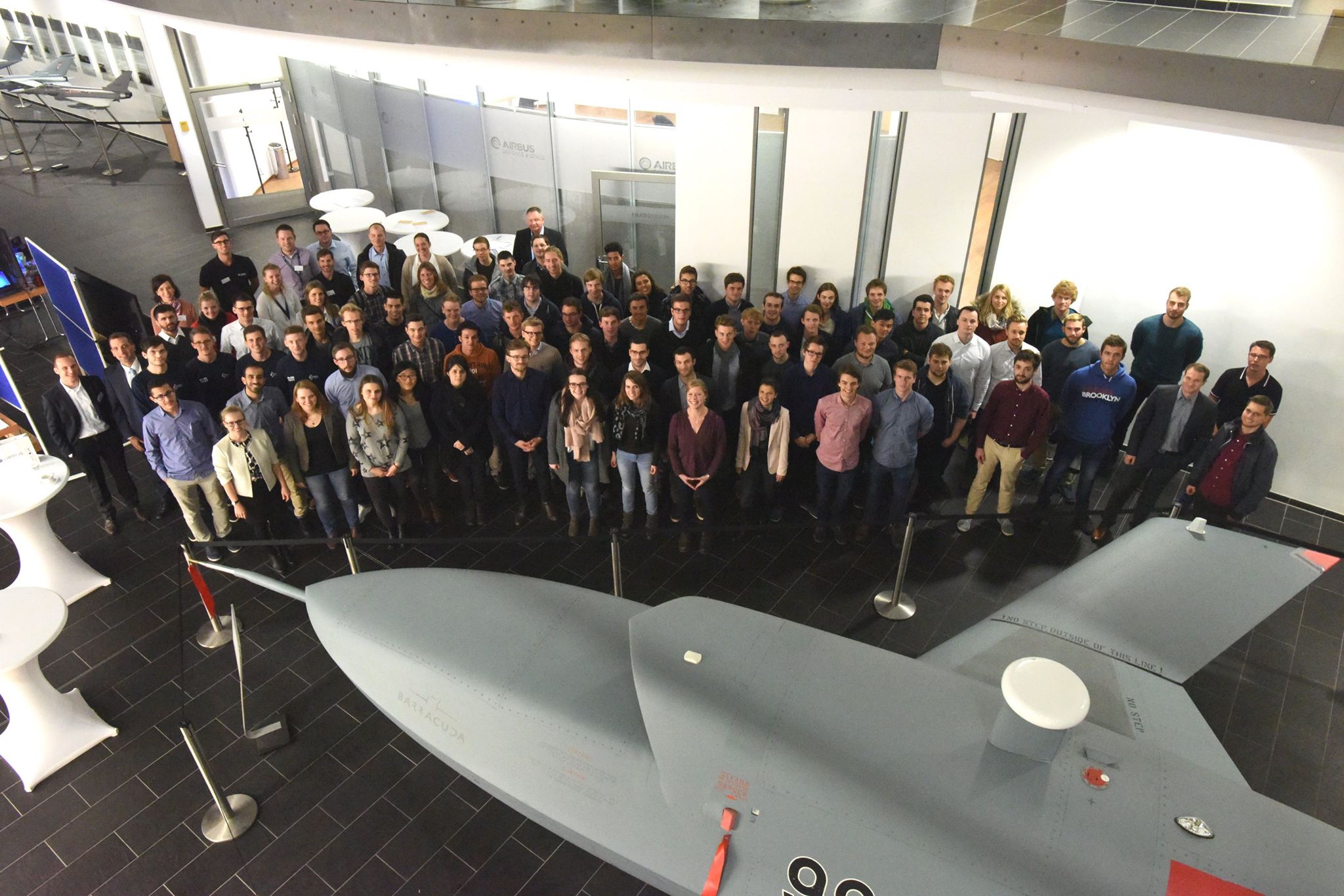 The topics of the departments ranged from mission systems to flight testing over simulation and aircraft rigs to optical and photonics data processing. A lot of them also offered short tours around their laboratories and work spaces. Among these was the so called "iron bird", a structural mock-up of the original Eurofighter to test actuators and sensors, and a laboratory, where strategies and ideas for the aircraft systems of the future are being developed and simulated in computer scenarios. A visit to the simulation laboratory offered us the unique chance to climb into the cockpit of the Eurofighter and take it for a spin – including the use of its complex systems. For most of us, looking at a aircraft means glancing into the sky and seeing a tiny dot moving, so getting up close and personal with aircraft is quite a rare opportunity. We, however, were delighted to be indulged into a site tour which meant going toe to toe with the 11 ton, Mach 2 capable Eurofighter Typhoon, Europe's most modern fighter jet. Other aircraft included the P-3 Orion, the A400M and the "eye in the sky", the NATO E-3. All of this was topped off with a visit to the on-site museum which comprises the last two flying World War II Messerschmitt Bf109s with their original Daimler-Benz DB 605 engines.
This was a truly outstanding day, full of new experiences and chances for all of us. A big thank you must go out to Airbus, whose employees were most forthcoming and eager to share their passion for aircraft and technology with us. At last, but not least, thank you to everybody who took part in this, because you and all your well-crafted questions and impressive résumés make this all possible and create opportunities like these.